Featured Item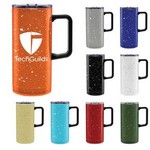 18 oz. Acadia Collection Stainless Steel...
18 oz. capacity. Features double wall stainless steel with a contrasting speckled finish. Comes with a push on/off, slide open/close lid. Fits most car cup holders. 7" H
$7.85 - $9.25
Welcome to JAG Promotions!
DID YOU KNOW? JAG Promotions ranks in the top 9% of over 40,000 promotional product distributors around the country! This gives us great buying power to keep your price down.
USA: Need items made right here in the USA? Or even Union made? We can do that, just ask!
ASIA: We help our clients with every aspect of their custom items produced overseas. We source the factories, monitor production, inspect the goods after production and have the items shipped right to your warehouse or ours. We do all the work!
What's Hot: Anything custom! People love something new so let us help you find the right item to fit your brand.
Warehouse and Fulfillment: We can store your goods at our warehouse and ship as needed to you or your customer.
ABOUT US: Click on the "About Us" button to learn more.
Who To Call:
Orders: irene@jagpromotions.us Office: 314-914-1925
Traci Jaggie: tracij@jagpromotions.us 314-409-3579
Joe Jaggie: joe@jagpromotions.us 314-409-3578
Signature Showrooms